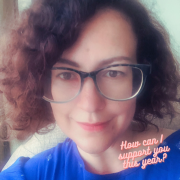 I have always felt different. I looked at the world, its people, environments and objects and saw not what is but what could be. I have always believed in fairy tales, vision boards and positive thinking.

As I grew up raised by a teacher and a soldier, I understood that it feels good to do good. It felt even better to be able to help and support others, be a reflective partner in conversation, better yet in action.


I started teaching at Teacher Training College and have not stopped since. It has been almost twenty years of a learning journey. I started as an ESOL teacher and curriculum developer and taught children and adults from the age of two to the age of sixty.


It taught me a valuable lesson. We are all unique - have unique perspectives, ways of thinking, doing things, of looking at the world, unique ways of learning...


Ever since I found PYP (2008), I've been in constant dialogue, inquiry and reflection on the most transformative ways of learning, thinking and impacting our communities. I've worked alongside colleagues, groups and institutions and facilitated learning experiences and reflection that provoked and inspired positive change and action.
I also discovered that my heart belongs not only to my two amazing daughters (Nina11, Zoja 7) but to all that discover this world through play, curiosity and wonder.

Today I still wear many hats (I say that with pride and joy):
I'm an inquirer,
a maker,
a play advocate
#SDGs goalkeeper,
a PYP coordinator,
a workshop leader and consultant
and first and foremost a life-long learner.
The 100 Languages Atelier is my way of documenting and reflecting on my learning and teaching and reaching out to new communities and colleagues. I'm curious to engage in dialogue about all our unique ways of learning about this world, and I bet you my favourite book (Extra Yarn by Mac Barnett and Jon Klassen) that together we can find more than a 100 languages of..
"(...)of listening of marvelling,
of loving
a hundred joys for singing and understanding
a hundred worlds to discover
a hundred worlds to invent
a hundred worlds to dream (...)"
Loris Malaguzzi, The Hundred Languages
After all, we are all one TRIBE :)